The Next Generation of Teachers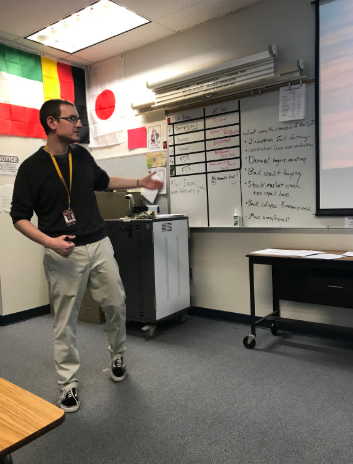 Hang on for a minute...we're trying to find some more stories you might like.
Prairie High School has been known for their warm and welcoming environment, not only to new students, but new teachers as well. These new teachers include student teachers as well. This year, Prairie has a total of three new student teachers, two in the social studies department and one in the english department.
Cameron Chilcote and Andrew Grogan both teach social studies. Mr. Chilcote is teaching under Mrs. Alway and Mrs. Bump. With them, he helps teach U.S. history and CIvics and Global topics. Chilcote claims that he, "loves history," as he quoted George Santayana, saying, "Those who don't know history are doomed to repeat it." Chilcote also says he loves all types of social studies, including psychology and sociology.
Chilcote attended Skyview High School where he also later coached baseball. Part of his love for baseball is the history behind it, which alludes to why he wants to become a history teacher. This year year, Chilcote was also hired as the head baseball coach of the falcons. Baseball is what led to his desire for teaching, because he discovered he, "liked working with kids and teaching would be a full-time way to do that." This head baseball job is also what landed him a student teaching position at Prairie, as he asked Drake for help once he got hired.
Andrew Grogan works with Mr. Hill, teaching U.S. history. Grogan used to be a substitute teacher for a year, which is where he realized teaching is, "fun and allows you to do something different everyday, at least more different than working in a warehouse."
Also making Grogan want to become a teacher was a Capstone Project he did for Portland State University. For his project, he worked at an all black high school in Portland, which Grogan says, "was a lot of fun and a great experience."
Grogan attended three different high schools growing up, Battle Ground High School, Vancouver Christian High School, and Skyview High School where he finished his junior and senior year. For college, Mr. Grogan attended Clark College and then graduated from Portland State University with a degree in history and language Arts, although he prefers history more.
In the english department, Cory Blystone teaches with Mrs. Trulove. Mr. Blystone's passion for english is because he just, "loves language in general." Blystone graduated from Hudson's Bay High School in '95, where he then attended Clark College and Washington State University, Vancouver. Being at Prairie, Mr. Blystone admires the, "comradery between the departments and between the admin and teachers, which isn't something you always find."
Next year, all three of these student teachers will all be on the hunt for a real teaching job. They are all in agreeance that they would love a full-time job next year here at Prairie high school.