Prairie Falcons and The Government Shut Down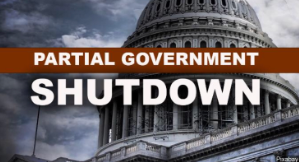 Hang on for a minute...we're trying to find some more stories you might like.
The United States government has been in a temporary, nonessential, government shutdown since December 22, 2018. After a survey taken of 20 randomly chosen Prairie students, it was found that most of the Falcons have stayed up to date with this contemporary issue.
When the students were asked if they were aware that the government was in a shutdown, all of them stated that they knew about it.
      However, only two of the twenty students knew how long the shutdown has been in place. This particular shutdown has become the longest in our nation's history, coming up on 32 days.
After being asked why the government was in such circumstances, majority of the students responded with answers similar to sophomore Trinity Perrin in that it was, "something to do with Trump building a wall." While the Falcons might not have known all the specifics, they proved to have a general knowledge of the situation.
      However, one thing the Falcon's are certain about is how the shutdown has affected their daily lives. When asked this question, all twenty students responded similar to sophomore
Alyssa Talkington in that, "no, the shutdown has not affected me." The Falcon's continue on with their life, practically unaffected, as the government officials continue to negotiate an agreement.
      Falcons have proved that they are staying up to date with the current politics of their country. As Congress and President Trump continue to debate this issue, the Falcons, as well as the rest of the country, will continue to ask the question: When will it end?