Tolo Date Changed From Original Date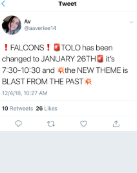 Hang on for a minute...we're trying to find some more stories you might like.
Tolo, also known as Sadie Hawkins, has been changed by ASB from its original date, December 15th, to January 26th.
ASB has changed the date for tolo since there were issues with the first announced date. They originally planned for the dance to be on a Friday, which upset some students because dances are traditionally on Saturdays. That is only one of the main reasons why it was changed according to the ASB class. "The date for Tolo was changed due to all the unhappy students. Many thought it was frustrating because it was after a game and it was on a Friday not a Saturday." said sophomore Olivia Repmia .
ASB is also hoping for a larger turnout since the new date is on a Saturday, which is what the students wanted. "I think the new change will make it a better turnout number-wise. With the original date, only so many people would have attended." Riepma also added. From the students perspective, they seem to be liking the change and are planning on attending the dance. "I am going to the dance because it sounds really fun and it's my senior year so I might as well go," senior Madison Graham noted.
The theme of the dance has also changed along with the date. The new theme for the dance is "blast from the past" which students seem to be liking since the last two years have been "glolo" themed. "I like the theme because it's something different that we haven't done for a dance before and it's fun and fresh." Graham said. Even with the change, Tolo is sure to be just as fun or better than years prior.