FCCLA Spreads Cheer One Cookie at a Time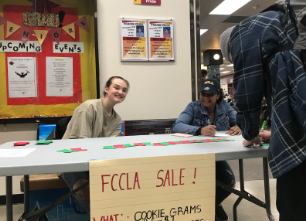 Hang on for a minute...we're trying to find some more stories you might like.
Family Career Community Leaders of America has begun their fundraiser of selling cookie grams at lunch for students to buy for themselves, friends, or teachers.
During the holiday season FCCLA sets up their table in the cafeteria and begins their sales. Students are able to buy two cookies for someone else for just one dollar. Cookie grams don't just benefit the students, but the FCCLA club as well. "Cookie grams are a fundraiser we are continuing from two years ago where you can buy two cookies for a dollar and we can deliver them to your friends," junior Lucas Templeton said. Senior, Jordan Chiles, also added that being able to give is one of the many reasons why FCCLA does cookie grams. "FCCLA does this every year because we love having the ability to give."  
FCCLA already has plans to do this again next year, " FCCLA has plans for doing this again next year but we skipped the cookie grams last year." Templeton said.
Members of FCCLA, Chiles and Templeton, noted how much they enjoy selling cookie grams, "I love selling the cookie grams because it's a fun way to help out the school and the club." Templeton said. Don't forget to stop by and grab some cookies!