Winter Wonderland Artistically Brought To Life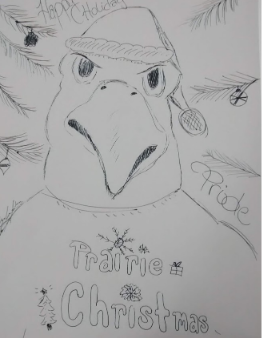 Hang on for a minute...we're trying to find some more stories you might like.
This month ASB has decided to recognize our student artists by having the theme Winter Wonderland! Ally Schafer, recognition manager said they chose this theme because, "it was a broad enough topic, and we wanted students to be creative." She continued by telling the purpose of the contest, "This contest is to recognize more students who may not be in other activities. Their talents deserve to be acknowledged! I think it's fun to add some competition to the activities!"
Veronica Porter, activities manager, added her thoughts on it being a contest, "[It] encourages people to get involved, and that's important!" she continues, telling the students to, "Stick with it! I understand because I draw. You will improve, and you'll see and learn more things then if you didn't."
To all those looking to compete now, or in the future, here's some things Schafer said they look for in ASB while voting, "We just vote for the ones we like in ASB. Students should know, ASB aren't professional judges, we're just having fun and doing our best!" Porter adds, "I enjoy the paintings because I understand it's hard, and it's amazing what students can pull together!"
ASB has had some amazing entries in the past several times they have hosted Artist of the Month, and are excited to see what is submitted in the next competition! Remember, artists with all levels of experience are welcome to enter and this is a great way to get involved while showing off your special artistic skills!