ASB Makes Students Wishes Come True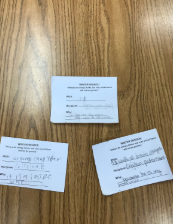 Hang on for a minute...we're trying to find some more stories you might like.
ASB has begun the process of their annual Winter Wishes to put every student in the holiday spirit.
"Winter Wishes is when we allow students to make wishes for themselves, staff, and other students and we try our best to make their wishes come true," says senior, Sebastian Frazier. Despite this not sounding very time consuming, it does take a lot of work and the students in ASB are more than willing to do it for the rest of the students, " We have to hand out tickets to students or them to fill out and then we make a big list and go to Fred Meyers to buy their wishes." Senior Vice-President Will Sanborn said.
 ASB does Winter Wishes for many reasons. For Frazier its, "To support positivity among the student body."
According to ASB, it's as fun for them as it is for the students. Sanborn likes it because he likes asking for stuff for himself, "I like Winter Wishes because I like asking stuff for myself."
Winter Wishes will be sure to bring a smile to students faces and get them excited for the holidays that are soon to come.