Need for blood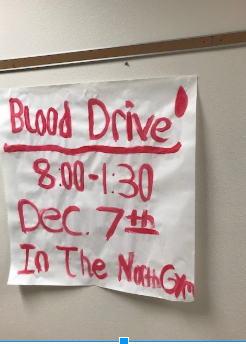 Hang on for a minute...we're trying to find some more stories you might like.
December 7th is the the second blood drive of the year, and Hosa will be leading the blood drive once again. Its from 8-1:30 in the North gym. Hosa topped numbers last blood drive and had to send many students away after the time slot for the drive ran out. This next blood drive they hope to top numbers again and  continue to expand the blood drive and get even more students involved.
This blood drive will be very important due to the limited blood supply the Red Cross is experiencing. The California wildfires and many other events happening in the US right now has depleted their supply and they are vying for more blood.
Students and teaches in our school should step up and help the community. Donating blood is a form of community service, it can gain cords graduation, and it can give you a sense of community.
Hosa member Anna Neal says, "donating blood is something I believe everyone should do if they are comfortable and able to do it." Students can sign up by getting a donation form in the ASB office or during lunch when Hosa members hand forms out. It's simple and easy, the only requirements are a signature from the donor and their parent/guardian and you can turn it in before the drive or day of. Just make sure your hydrated and have eaten the correct foods before donation!