Honoring America's Heroes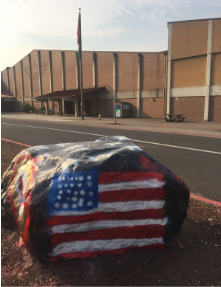 Hang on for a minute...we're trying to find some more stories you might like.
The Associated Student Body is planning Prairie's first serious event of the year. On Nov. 13, Prairie's annual Veteran's Day assembly allows students to show appreciation for America's heroes.
The event consists of multiple songs, speeches, and gifts to celebrate and acknowledge veterans, as well as those currently serving in the United States Military.
The assembly begins with the national anthem and presenting of the colors by the Prairie JROTC. A few JROTC students will also symbolically fold the flag.
ASB officer, Amanda Keller, later reads a poem that represents everything that those in the military do for their country.
Keller says, "The poem is by a woman named Cheryl Dyson that is all about what we thank our veterans for."
Veterans that come to the event are recognized with gifts created by Prairie preschoolers with the help of high school students. The floral class designs arrangements to give to the veterans as well. Prairie's band and choir also perform a special song for them.
To conclude the assembly, Nurse Scott is giving an eloquent speech on the significance of this national holiday. A slideshow is also shown featuring student's Veteran's Day art.
Prairie's Recognition Manager, Ally Schaefer, explains the challenges related to planning for the occasion. Schaefer is in charge of the event, and hopes to find more veterans to attend the assembly. She gives the new ASB Advisor, Oliver Root, major recognition for his contribution in planning the event.
Schaefer says, "Mr.Root has been doing a great job."
Prairie's Veteran's Day Assembly allows students to understand the importance of America's veterans, as well as thank them for all that they do.
Amanda Keller says, "Many students at our school come from military families or at least know someone who has served, and it's our duty to thank them for their sacrifices."
The annual assembly showshow Prairie High School honors and recognizes veterans in the Country.