Anonymous Positivity at PHS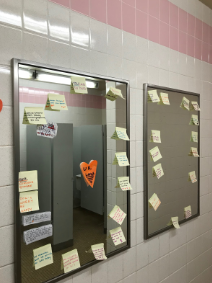 Hang on for a minute...we're trying to find some more stories you might like.
After a rough start to the school year with the teacher strike, more positivity has been emerging around Prairie High School from chalk drawings to student of the month awards. One way this positivity has been introduced is in the form of sticky notes found around the school commons and bathrooms.  
The notes began to emerge during the first week of November and more notes accumulated as the week went on. The sticky notes found on the mirrors and towel dispensers in the bathroom and other areas in the commons consisted of motivational and encouraging words about love, strength, and beauty. Junior Meri Dunford says the notes are "really nice and show that there are good people in the world".
No one actually knows who wrote the notes making this positivity completely anonymous. Principle Travis Drake claims to know who it is, but says "she doesn't want anyone to know" making the act extremely humble and selfless. Some think that the notes really see no purpose and don't actually affect a person's self esteem or mood, however Health Science teacher Melissa Levine says "Any type of positivity, anonymous or not affects me in a great way."
This random shift of positivity around the school is just one of the many reasons students and teachers believe Prairie has a more positive and accepting atmosphere than other schools.