The Power of Community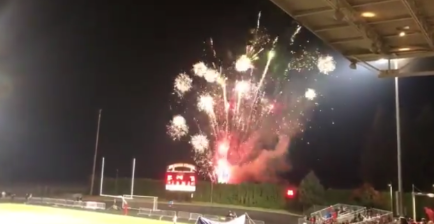 Hang on for a minute...we're trying to find some more stories you might like.
Friday, October 19, was the Homecoming football game for many high schools in Clark County. Some of these schools include Prairie High School, who played Fort Vancouver High School, and Camas High School, who played Bellevue High School.
As tradition goes, the Homecoming king and queen are revealed during halftime at the game. Prairie revealed theirs by dumping plastic bugs on the losers and candy on the winners. After Camas's winner was revealed, fireworks were sent off, as they do every year.
Prairie's principal, Travis Drake, saw a tweet on twitter showing a video of the firework show at Camas. Drake quoted the tweet saying, "I have a feeling our budgets aren't the same." The Camas School District athletic director, Rory Oster, replied to Drake's tweet saying, "Just have to beat the pavement and build relationships with the community. People would be amazed on what and how much the community will donate and support their local programs. Not one dime spent. Mean Gean fireworks is the best."
Drake tweeted this with the mindset that "our Homecoming celebration that night went well, but the one thing that was bothering me was the lack of community support Fort Vancouver received (their stands were empty).  When I got in my truck to go home, I noticed on Twitter someone had posted a video of a firework show for Camas. Obviously they have some more resources and great support from their community, so I made a comment about the differences of our budgets."
In Drakes opinion, if Prairie went to the community asking for something, such as fireworks, they'd be able to get it. He then said  he would rather ask the community to spend their money on "actual needs."
With Camas's larger population at their school and more community support, they are able to receive extravagant donations. But, for schools like Prairie and Fort Vancouver, the story isn't the same.