Math Mania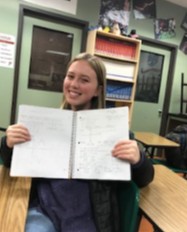 Hang on for a minute...we're trying to find some more stories you might like.
Oliver Root, a math teacher at Prairie High School, introduced a new math tutoring program called Math Mania last Tuesday where students who are taking upper level math classes can tutor their peers during Falcon Support.
Many students need assistance with math and teachers are often too busy during Falcon Support to help every student. This tutoring program will hopefully give all students the opportunity to learn and understand math concepts that are essential to the core elements of each class.
A junior at Prairie, Anthony Santoyo, was among the first to utilize this tutoring program. Santoyo feels that the program will be used because it "takes away the stress of having to ask your teacher something you should have already learned."
Santoyo also enjoys the opportunity to be tutored because he "knew the person that was helping [him]," and they were "less condescending" than teachers often are.
Among the tutors are students who have taken pre calculus, AP calculus, and/or AP statistics. The tutors will only assist students in classes that they have already taken to ensure that the material is being taught correctly.
Maya Davis, currently taking pre calculus, volunteered to tutor this last Tuesday. She feels that this tutoring program will "be helpful to those that struggle."
Davis is not bothered by the fact that she is tutoring her peers as it is "nicer to tutor people that you know because it is not awkward" and the tutor can "connect [with the student] more than a teacher does."
The tutoring program is still fairly new to Prairie High School and as a result, not many people are utilizing it. On the first day it began, only two students came to be tutored. According to Davis, "people would like to get tutored but they just don't know about it."
As the school year goes on, Mr.Root will hopefully find ways to advertise this new tutoring program so that all students at Prairie High School can have the opportunity to improve their understanding of math.