Future Planning Arrives Fast for PHS Seniors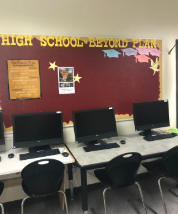 Hang on for a minute...we're trying to find some more stories you might like.
For most high school students, senior year is a laid-back, fun time, where you make some of the best memories you can. For others, the last year will drag on until you finally walk across the stage and are handed a diploma. What unites all seniors however, at least in the state of Washington, is the required completion of the High School and Beyond Plan, or HSBP. The HSBP is used to help set goals and create real-world tools for the betterment of the student's future after they receive their diploma.
Senior, Payton Millet, has already finished his HSBP. Millet feels that it's worth it for kids who have no sort of plan after school, but not necessarily for students who have everything figured out. Millet has already scheduled his next four years, planning to attend the University of Arizona to attain a degree in physics and play rugby. To kids who haven't finished the HSBP, Millet says, "Find the time to get it done, the faster you get it out of the way the better." Millet also found it very easy to do, adding it only took him about 2 periods to finish.
Found in the Career Center, Shirley Howard has been helping kids finish their HSBP. She says that kids can come and do it before and after school, during Falcon Support, and at home. If a student can't find time they can also call, email, or walk-in to schedule an appointment. Mrs. Howard says that there are no materials required, but encourages students to know certain reference and resume material. Some students may find it frustrating that the HSBP is a graduation requirement, and many will stop to wonder why it is. Mrs. Howard explained that the state requires a senior project to graduate. Additionally, Mrs. Howard hoped to encourage seniors to get it over with, explaining that, "it's best to get it finished first semester. Second semester is very busy with deadlines and applications, might as well check one off the list."
The High School and Beyond Plan is due before graduation, the sooner it is completed the better.