The Class of 2017 Did it!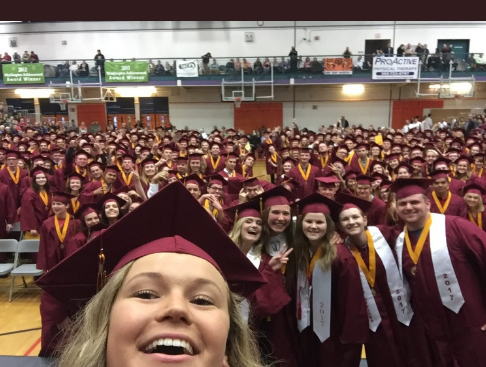 Hang on for a minute...we're trying to find some more stories you might like.
On Thursday, June 15 the class of 2017 spent their last time together here at Prairie. The class gathered together for their graduation at 7 pm.
The ceremony opened with the seniors walking in with the processional with the song "Pomp and Circumstance" being played by the PHS wind ensemble. Maggie Arnold, ASB President, proceeded with the welcome speech. After the welcoming, the JROTC Color Guard presented the colors while Ivy Goodman sung the Star Spangled Banner. Jason Castro then presented the scholar athlete  of the year awards. After they were announced, Stephanie Watts acknowledged the Salutatorian, Katherine Schafer, who then gave an address. Watts came back up and then acknowledged the Valedictorian, Stephanie Sells, who also gave an address to the class of 2017. Jan Byrd was then introduced by senior class officer, Hannah Nienaber. Mrs. Byrd has been here for three years and gave her Commencement speech and then passed the microphone to Mr. Drake who presented the class of 2017. The class was accepted by Monty Anderson and they all achieved their diplomas. The ceremony ended with senior class president DaLancey Aho, giving the concluding speech. To conclude the ceremony the PHS wind ensemble played the recessional.
Mia Munoz, a 2017 graduate, said that graduation went great and that it, "ran smoothly!" She added that, "It was a great feeling to be finished with something that I had worked so hard to accomplish." Munoz said her favorite part of graduation was, "Walking across the stage, it was a great feeling to finally be on stage receiving my diploma." She is planning on going to Western Washington University because it has a huge environmental science program which is something she wants to study. Munoz says that it's a very exciting time because of, "all the unknowns and the limitless possibilities in my future." Some advice to the upcoming seniors that she would like to share with them is to, "Cherish the time you have left in high school, it goes by crazy fast and it's the last time you'll get to truly be a kid."
Maria Rojkova, a 2017 graduate, explained that the graduation was, "very nerve-racking, but a relief." Rajkova mentioned that, "it was fun to see everyone who has influenced me so much after the ceremony." Her favorite part of graduation was seeing everyone afterwards and taking pictures. Rojkova is going to the University of Washington in Seattle because they offered her the best scholarship. Some advice that she would like to give the upcoming seniors is that you shouldn't focus on impressing others and that, "you should get started on everything college right this second. Apply for scholarships right away!"
The class of 2017 ended their journey in high school and started towards the next chapter of their lives. Next up is the class of 2018!