Falcon Support Changes!!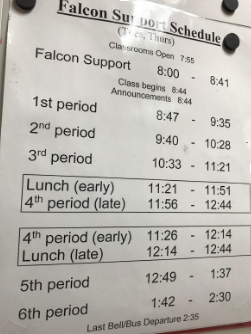 Hang on for a minute...we're trying to find some more stories you might like.
Starting with the new school year next fall the school is going to face some changes. One of them is falcon support.
The new Falcon support schedule is going to be after second period. Mr. Drake, Prairie High School's principal, said, 'That there are two main reasons for the changing falcon support schedule" The first reason is "We can't help student's when they are not on campus, and falcon support is before first period a lot of students don't come to school, so they can't get the help they need."
The second reason is our school is going to share three teachers from Battle Ground High School. These teachers will be working part time at both schools. In order for these teachers to attend to the students at both schools, the schedules must be the same. The reason Battleground High School cannot have the support period before first period is because, when students get dropped in the morning, they usually go wherever they want, which means most of them go off campus before first period.
The benefits from changing the schedule for next year are, all students will be here and they will get all the help the need. When Falcon Support starts the students are not allowed to leave campus, and will remain on campus to assure they get the help they need.
Mr. Drake added that, "The pros of this change is everyone would be here, and the cons are everyone would be here and it is going to be crowded. The school is trying to make a very flexible schedule for all the motivated students, and to help all the students. If everyone could manage their time then probably we won't need anything."
Skyview High School makes their students stay in second period for their support period and if they want to leave to another class they have to have a pass to each class they want to go to.
Our school is trying their best to make the schedule flexible for next year.