Pass-in-Review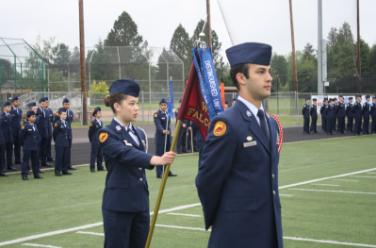 Hang on for a minute...we're trying to find some more stories you might like.
On June 3rd JROTC hosted their last major event of the year. Pass-in-review is the end of the year ceremony and a graduation for all the seniors. This ceremony took place at Battle Ground High School district stadium.
Heather Lee, JROTC group superintendent, was the unite guide and was holding the unite flag next to the squadron commander. She said "I think it went really well because it showcased all the cadets and all the discipline that they worked on all year." Lee also added that this event was combined with battleground and it took them nearly 2 months in advance to decide where everything went. Her favorite part was seeing all of her JROTC friends one last time and to, "be like a family one more time.¨
Chris Flynn, the group commander, said, "it went pretty good." He also said, "my favorite part I really don't know because it was like a blur and I was focusing on what I was suppose to do." Flynn´s job was just to stand next to the old group commander, ¨just kinda stand there and look pretty." He added. He stood there until it was time for him to be promoted to the new group commander for next year.   
With the new leadership in place JROTC is ready for next year. The officers and the group superintendent are all excited and encourage new students to join as soon as possible. They believe that it will be beneficial for all.