2022 PHS Football Season: Wrapped up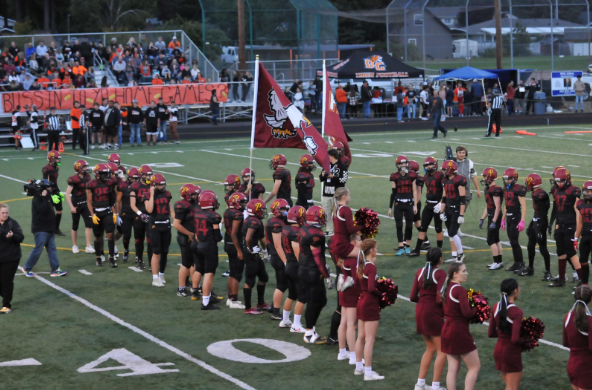 The Prairie Football team's season came to a close as they played Mt. View and Evergreen for the 3-way league tiebreaker at Doc Harris stadium on October 31, 2022. That Halloween is definitely one that the falcons will remember forever. 
The Falcons varsity team went 2-2 for their conference record, with an overall record of 5-4. They played many tough teams such as Kelso, Evergreen, and Mountain View, hence the 3-way league tie. They even went as far as Auburn, WA, and Corvallis, OR, to find tougher competition in order to prepare for league games where the team would have to dig deep to pull out a win. 
According to senior Bryce Phillips, the varsity team had an interesting system this season, where their seniors all rotated on who got to be a captain each game. No senior was a captain more than twice, as there were 17 seniors on the varsity roster. 
Senior, Ben Kapelka was one of the many leaders on the team this season. Kapelka earned achievements such as 1st team all-league and 1st team all-region. He thought this 2022 season outcome was great and he "was happy with how it went." He says the hardest game this season was against Mountain View, and the team had the most fun while playing Evergreen. 
Their new head coach, Will Ephraim, played a huge role in positively impacting their football community. This program had many highs that led to its accomplishments this season. The new coach contributed a lot to help them reach that success. Kapelka says he "loves the new coach," and that he "cares a lot about the team." Ephraim is "invested in everyone." This inspired the program to have a new and refreshing dynamic, pushing them to work hard every day. 
A freshman on the varsity team, Nicholas or "Spud" Merritt, had an amazing experience with the team this season. Merritt says, "it was a lot of community and the camaraderie was really good." His response when asked how it felt not making it to the post-season was, "it was definitely a bummer, we were close, but I know I have more years ahead of me." Merritt says he hopes for "postseason, definitely" and "to earn a scholarship" during his next 3 years playing with the falcons. 
Seth Blick, a junior on the varsity roster, wanted more for his teammates this fall. Blick states that the Falcons "definitely could've done better with the amount of talent on the team." When asked how the team felt after losing the tiebreaker game that would've punched them a ticket to districts, he said, "They didn't like that. A lot of disappointment, and a lot of feelings like we could've done better." 
For a better outcome next season, Blick says that the team will "hopefully have more structure… it wasn't very teamlike until the end and we couldn't really come together."
The talent that Blick speaks of was prevalent with the varsity team when the all-league awards were announced. Ben Kapelka earned 1st team all-league and 1st team all-region. Players Braeden Slamp, Alex Ford, Aidan Miller, Ethan Cabral, Kaleb Watson, Noah Green, Colby Majewski, and Pierson Lameh, were all awarded 2nd team all-league.
The JV Falcons went 2-2 for their conference record. According to freshman Olin Cecil, the Falcons C team went 2-5 for their overall record. Sophomore Isaac Watson says the JV squad "worked hard in practice every day to continue to improve throughout the season." Watson also stated that at the beginning of the season "our offensive line was struggling." By the end of the season, it had improved so much. 
The C team also worked very hard this season to improve their skills and camaraderie, which they succeeded in. Playing every Thursday, they had 3 days of practice before game days to come together and prepare to get a win. The older players loved to come out to C team games to support, proving how welcoming and inclusive the PHS football program is. 
The PHS football program was out for blood this fall. This was clear with the tough practices, support from all teams and coaches, far away game day destinations, and brotherhood within the 3 teams competing with some tough talent.