Artist of the Month of April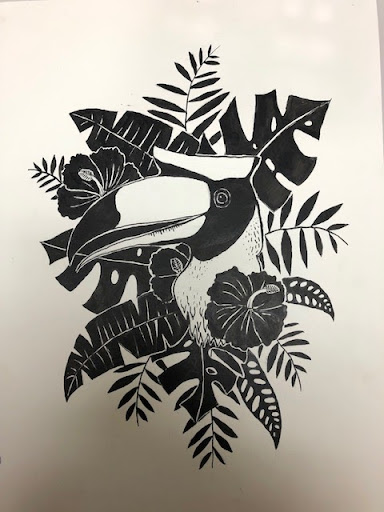 As we pass through the month of April, students enter the artist contest of this month. The theme of this month's contest was earth day. Representing the annual awareness towards ecological sustainability. This exact day of April falls on the twenty second.
Many students this month participated in the contest. As ASB worked together to proclaim this month's winners. Cayla Russan was revealed as our third place winner. As Jake Gordon followed in second. For our first place winner, Brianna Morrel was chosen.
In Brianna's artwork, she painted an ocean landscape with coral hues in a detailed sky and blue waves washing up the beach.
"I created this with acrylic paints," said Brianna. "I finished this in one sitting, and spent the whole day creating this. Sunsets and clouds inspired me to paint this, because they're so colorful and bright in color."
Brianna's painting showed soft colors from the sky reflecting onto the shore line.
"I really enjoyed this challenge, and I'd say I've been a painter for about three years, now." Brianna added.
"And finishing this was very satisfying to me, especially since I finished before the due date."
Many students claimed to have questioned how the winners of these art contests are chosen. Students ask who decides, and how.
"How the winner is chosen, is through ASB," Quoted Mrs. Ross. "Each entry is laid out in an empty classroom, with a sticky note hiding the identifying name of each individual artist. ASB then puts a tally for what piece they deem the winner. Finally, I add them all together. There's no single judging, or randomized choices. Only the majority votes on anonymous artwork."
Some students talk of what they'd like to see next in themes in this contest. Often being based around ideas of colorful hues or fun texture. Many people feel like themes either make or break the choice of taking time to enter the contest. Students and art lovers are enlivened to hear what theme will be announced next.