This Upcoming Grad Night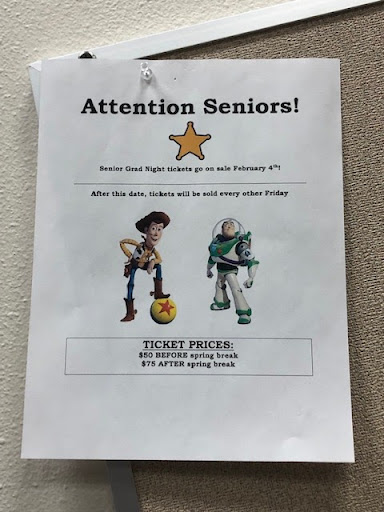 This coming June 9th, there will be an event taking place after graduation. This event is overnight and Toy Story 4 will be showing. Students stay clueless as to where this event will take place. Many say it's an unknown location that will be located by buses. What do students assume about this event?
"I heard that the location will be kept private and no one will be able to find out until the time comes. I really hope it's something fun and not boring. Because I want the money I spent on my ticket to be worth it," explained Kate Chavel.
What are some rumors you may have heard about Grad Night?
"Someone told me that it's outdoors in a strange place," mentioned Sandra Parks, a senior of Prairie. "In the past, I heard from friends that Seniors went to a rented out barn area and played games all night. But I guess the students are dropped back off at four in the morning, or maybe eight."
"I overheard that the location is somewhere in Portland, but I have no idea where," said Andrew Nolen. "I hope I enjoy myself, or else I will be sitting around the whole night wanting to go home. I do know that they're going to watch Toy Story 4, and that sounds pretty fun."
Other students have heard rumors of winning prizes and gifts during competitions.
"I assume it's going to be in a hotel or some wide area or property. I don't know what else it would be. It would be cool if we went to Chucky Cheese for the night," Aundry Turner. added.
Other students contemplate whether or not the event will turn into something like Squid Game. But no one really knows.
You can purchase your tickets for $50 during lunch on Fridays. After break, the price will go up to $75 during lunch hours.