How Clothing Brands Shaped Our Generation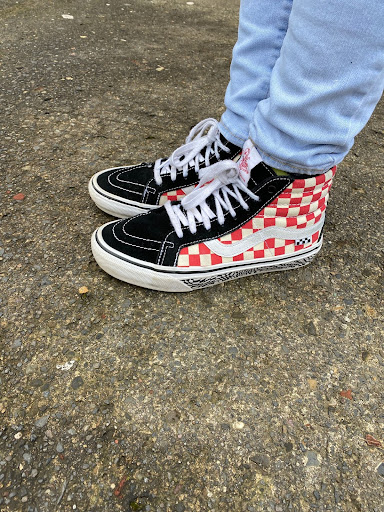 Clothing brands; everyone wears them, but what makes you like a brand? The media, social issues, peers, expressing individuality, comfort, affordability, or living in the city or rural areas? How and what influences what our generation is wearing? Brands can affect how others view us, what we buy, our status, and how people treat us. What influences our fellow students on what they wear?
Senior Tatum Colpron said that she would buy something for the brand name "but it depends on the price, if it's not ridiculous, but I love a good knock-off." Colpron's favorite brands are Forever 21 and Nike. Colpron doesn't think Brands are really a symbol of status: "Anyone can buy expensive brands, it doesn't matter what you wear, it can portray something you don't believe in." However, she does believe that brands do affect the way people see you: "People judge by looks and brands and put people in boxes," Colpron states. She believes that depending on situations, brands can affect our daily lives. For example "when it comes to food – when it comes to cookies and you get a knock off Oreo, you know," she states.
Ruth Sprenger, a Prairie Freshman, states she would buy something just for the brand, "if it's pretty cool and depending on the brand. If it's pretty, expensive, then wearing it is cool." Sprenger doesn't think that wearing a brand is a status: "People think it would but it doesn't. A lot of people spend money on brand names when they are broke to look rich". Sprenger responds to the question, "Do you think brand names affect our daily lives and how we see people"? It depends on the person you're talking to, some view people by brands, some could care less what you're wearing".
In Conclusion, brands can and cannot influence how people look at you pending what you are wearing. All kids want to belong and look cool, but it depends on your ideas, groups, what you believe in. Different people are influenced in different ways. We all want to be accepted and appreciated. Style seems to depend on your "tribe", who you want to feel accepted by or who you accept. We all just want to belong.