How‌ ‌Was‌ ‌the‌ ‌First‌ ‌Semester‌ ‌Coming‌ ‌Back‌ ‌from‌ ‌Covid?‌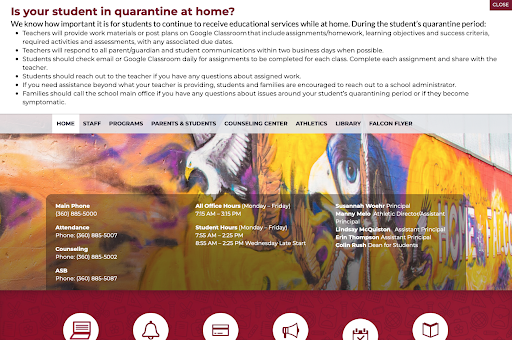 First semester was crazy. Everyone back in person; Covid tracing, masks, and finals. The year is finally half way over with the first semester done. Compared to previous years, how was the first semester?
Audrey Scott; due to Covid, had to complete her Sophomore year online. Now that we're back she has a few things to say. "First semester was pretty good," Scott states, "I met a lot of new friends this year".
Scott continued, "online schooling made it tough keeping in touch with people or even meeting new people. Now in person, people have the opportunity to meet people face to face". In addition, "it was a lot harder this year compared to previous ones. It was harder to pay attention in class this year, however, the teachers were kinda more leanet this year when having to turn stuff in". In conclusion, " This is due to people constantly getting Covid traced, and having to do their work at home".Scott recommends that; " teachers give less tests as they are giving way to many".
Scotts hardest class was Physics as it is a hard topic and her favorite class is History as it is simple and there's not a lot of work. Even though it is harder for her to pay attention now she stills prefers in person school than online
Zarren Louangphasy, a senior, had his Sophomore year cut off and had to go online for Junior year. Louangphasy, "I think the first semester went well". It was not easier compared to previous years; the hardest part is wearing a mask communication wise. It's been harder understanding people with masks. Teachers have been more understanding, if you get covid they will post assignments online so you can do it".
The part Louangphasy dislikes is social distancing but he understands the school can't really do anything about as its a nationwide thing
Louangphasy's hardest class was science, "you have to actually participate in the class" he states. His favorite class was band because he got to play instruments.
In conclusion this year has been harsher than previous years despite the struggles, students are trying to find the positives and enjoy their highschool years.