Artists of Prairie Highschool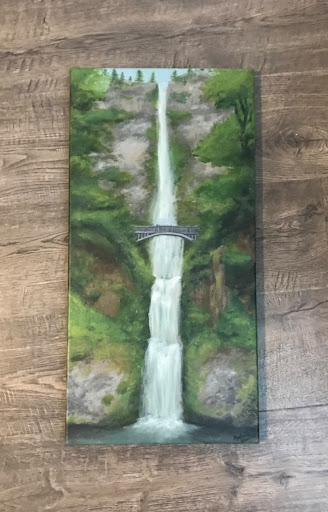 What inspires artists to create the work they make?
What inspires artists to create their work? Artists of Prairie High School collaborate to explore the individual ideas and reasons behind their work. Many art pieces hang up around Prairies campus yearly. Pottery, murals and paintings. But what was the personal perspective behind the making?
Masha Yaremenko, an experienced artist of seventeen years, quotes,"Art gives me a sense of accomplishment. Art is created to be shared with others, and not to be kept to yourself."
In this portrait of a sight in Italy, she was asked what had inspired her to construct this work.
"I drew this picture, because I like the beauty of old places that hold a lot of history. This specific street is a place I would like to visit some day. I love the uniqueness of agriculture and of older towns, they have a lot more beauty compared to buildings nowadays.
So I would say that this picture is to show a 'memory' of being on that street in Italy. Although I have never been there, I want the beauty of that place to be emphasized with a sense of familiarity to those who see it." Yaremenko announced
Is there anything you wish you knew as a young artist?
"It's okay if you don't know your specific `art style,` yet. I spent a lot of time experimenting with different mediums and painting different subjects, until I realized what was unique to me. So don't feel bad for not knowing what your art style may be, it takes time to develop good creativity," Said Masha.
Art means many things to all kinds of people.
"It's something everyone can relate to and find stories about. Artists can be the most interesting people you'll ever meet." Said DJ Howler, an aspiring art student, who also discussed their passion of five years. "Color theory is important. It's always nice to include colors to compliment others, even when they may be your least favorite color," they stated.
In the digital art work below, they explained that their approach wanted to create something 'happy and exciting.'
Is there something you wish you knew as a young artist?
We asked this question to DJ Howler, as well. "As a self taught artist, I wish I knew sooner it was something I was going to fully dive into. It started with doodles on my homework. I wish I had asked more questions as a self taught artist. Art has given a purpose, a reason to look at things differently, like nature or people. Art has shaped my brain into thinking, understanding and appreciating everything around me. It is an open door to understanding people."
Art is a language that expresses feelings that can't be said in words.