Prairie High School Hosts Their Very First Boys Volleyball Game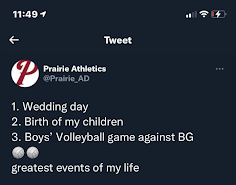 On Nov. 4 2021, Prairie High School hosted a boys volleyball game against Battleground High School. Tryouts were open to Juniors and Seniors and the turnout was large. The girls high school volleyball team would be the ones to coach this event.
When the idea for the event was brought up to the High School's athletic director, Mr. Melo agreed that it was a great idea.
"I had a lot of students come up to me and ask me about running a boys volleyball game or team. Other schools have been doing it and they had a lot of interest in volleyball." said Melo.
It seemed as though this idea had been brought up over night when actually there was a lot of planning and thought that went into making this idea a reality.
When Melo was asked what the process of getting this event set up was, he said, "Just meeting with ASB, Ramsey [Prairie senior] was the one who I met with and I asked him what his vision was and he and I threw some ideas together."
With the turnout of the tryouts being so large there was a great mix of boys who had possibly never met each other before, bringing even more inclusion to PHS.
"Obviously [boys volleyball] is something we've probably never had…it just brought a group of guys together that would maybe never hang out other than this." said Melo.
Prairies Varsity volleyball head coach also played a key role in the startup of this event.
When asked her initial thoughts of this event Jen Palmer stated, "I've loved seeing students and fans go crazy and the involvement in volleyball and sharing the love and passion we all have for the game so I loved the idea."
It is clear that at majority of the High Schools girls home volleyball games, many fans and students show up to cheer and support, so the team wanted to reciprocate the support for the male students that decided to play.
When asked how she felt that the boys team has made an impact on Prairie, Palmer stated, "I think it's brought a lot of unity and it lets us coaches connect more with the student body and creates a supportive environment."
Speaking with one of the players, PHS senior Talus Sather, he stated that this event was something he hopes continues in the future and everyone should take part in it if they can. Sather was asked if he would recommend other students tryout if this event were to happen again and he simply said, "of course."