Winter Break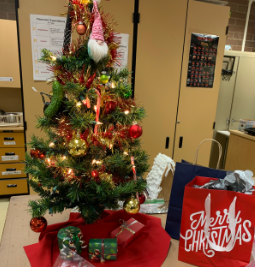 The Holidays are most people's favorite time of the year. Many families have traditions or fun things they like to do with friends and family. The last week of school before Winter Break, the 16th through the 20th, is a spirit week with holiday themes at Prairie. Some of the spirit days are Pajama day, ugly sweater day, and color wars.
"My favorite spirit day this week is Pajama day," senior Ty Hebert says. "I love being comfortable all day during school, and it's easier to get ready in the morning." Pajama Day was Tuesday the 17th. 
"Color Wars is my favorite spirit day," says senior Aidan Fraly. "I love it because everyone seems to be in a good mood because it's the last day before winter break. Also at the assembly it's really fun watching all the competition and seeing everyone smile."
Most every student is excited for the two weeks of no school. What those kids do during the break is different. "I am excited to hang out with my basketball teammates, in practice and after practice," Aidan Fraly said. "No matter what we do, we always have a good time together, everyone just doing fun stuff." 
It is a great time to be with friends and family, and enjoy the company of others. "I'm excited to just hangout with my friends and have a good time," Ty Hebert said.
Many families have traditions they do during the Holidays. "What we do is, on Christmas Eve we make cookies together as a family, and enjoy eating them with a cold glass of milk, and we all open one present early," says Aidan Fraly. 
Some traditions are not always about the holidays, "My family goes to the beach every year the day after Christmas," says Ty Hebert.
Whether you are at home with family and friends or out of town, winter break is always a great time to relax, regroup, and enjoy some time off!