Giving Back For the Holidays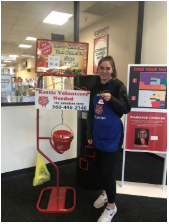 As the holiday break approaches, students are finding ways to bring joy into other's lives. Prairie's National Honors Society (NHS) has done this by annually volunteers for the Salvation Army as bell ringers at the Vancouver mall.
Meri Dunford, the NHS president, finds volunteering enjoyable because "it's fun to do with other students and have a good time together."
Many of the students who are a part of NHS find volunteering not only to be fun, but fulfilling as they are helping others in their community.
"Knowing that I'm giving up a little bit of my time for the greater good and giving back this time of year is my favorite part about volunteering," says Dunford.
In the chaos of the holiday season, it is often hard to think of others and find ways to give back to the community. It turns out, there's plenty of easy ways for everyone to give back. Meri Dunford says a few ways that people can give back is to "give a little bit at bells and just remember to look outside of themselves and help others in their day to day activities."
A major part of NHS is encouraging students to volunteer, it's actually a requirement to be able to stay a part of the club. This helps students to focus on others rather than themselves from an early stage of their lives.
Dunford says that "during the holidays, it's good to focus outside of ourselves and to give to those who don't have as much, giving a little to them and focusing on others," is a huge reason why students should volunteer.
Leave a Comment