School Wide Food Drive!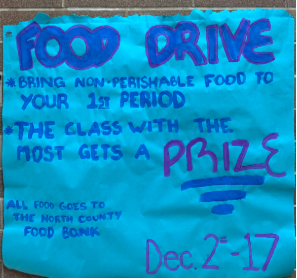 The food drive This year for Prairie High School is December 2nd through the 17th. All the food goes to help the North County Food Bank. 
"The food drive is run by all of the clubs here at prairie," says Olivia WItherspoon, a member of NHS. "The main two clubs are National Honors Society and HOSA." The clubs are very involved and are helping to make the drive more school wide and getting everyone to participate. 
"Bringing non-perishable foods like canned foods are what is needed to bring," stated Witherspoon. The food gets sent out all around the community and needs to be able to stay edible without a refrigerator. 
Olivia Witherspoon, a member of NHS says "A good way to involve yourself is to bring in donations to your first period class and from there the clubs will gather them." Even if you're not in a club, you can still help out the community and your school.
"The goal of the food drive is to collect the most food items we can," says Witherspoon, "that way we can help our community." Many students take for granted things like going home and having food that they can eat. Many people in Clark County don't have simple pleasures like that. Donating to this food drive can help classmates and other community members who aren't as fortunate. 
Witherspoon also mentioned "The class that donates the most food will all get Prairie tee-shirts as a prize, so make sure you're donating." With that, make sure you remember to give a little this holiday season Falcons!
Leave a Comment