A Week Filled With Thankfulness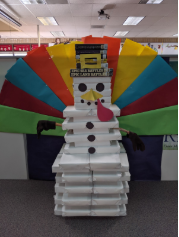 Students and staff are getting ready for Thanksgiving break this upcoming Wednesday. As to be predicted, they are excited to have a break from their school schedules and to celebrate the holiday.
Mrs. Homola, a teacher at Prairie, is, "excited to get away and have some free time," as well as,  "to come together as a family."Family is often a central part of Thanksgiving and Homola states she will have, "five families coming together," for their celebration. Even though it is a break from the busy schedule it sometimes can get a little stressful, as is the case with Homola when hosting this many families.
During Thanksgiving, each family has their own special traditions. Garrett Anderson, a senior at Prairie, says "we come together to watch football and eat our thanksgiving meals." Many enjoy eating their holiday meal while supporting their favorite football teams.
During the football game, Garrett's choice of food is "Mash potatoes and white turkey." Anderson also says, "I am most thankful for my friends and family." 
Thanksgiving is a time where people come together to celebrate what they have and truly be thankful for all they have. What are you thankful for?