National Signing Day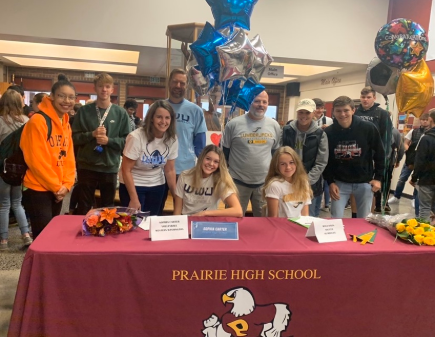 November 13 marked the beginning of the first signing period for athletes planning to play in college. Here at Prairie, there are two athletes who signed, Maya Davis and Sophia Carter. Carter signed to play at Western Washington University, and Davis signed to play at Humboldt University. 
Being able to play at the college level is not easy. Prairie's Athletic Director, Jason Castro, agreed with this when asked about how many students he has seen sign to play in college while being at Prairie. "The most I've seen in a year is 6, maybe 8, something like that. Over the whole year there were about 10 or 12. It's a rare thing, a really hard thing." Said Castro. "I would estimate 25 in my 4 years at prairie." 
Dawn Rowe, a teacher and volleyball coach at Prairie says,"Just keep asking yourself how bad you want it, and if you're ready for that kind of commitment. You have to be passionate or don't go for it."  Playing a sport in college at any level is a big time commitment. College alone is a big adjustment from high school and playing a sport along with that can be hard. 
"Because kids put so many hours and show so much dedication they deserve a pat on the back," says Dawn Rowe. Being able to sign to play at a college in front of your friends and family means a lot too these athletes and a national day for signing gives these athletes more recognition for their accomplishments. 
"Anyone that is invited can attend," says Rowe. If you know someone who is singing or just want to help support your fellow falcons, then you are more than welcome too come watch. 
There will be another signing day this year. Castro explains, "This is the first of the early signing period. The regular signing period begins for most sports February 4th. But, we want to celebrate you. So if you want to sign on February 4th great! We would love to celebrate you. Some people take more time than others."