Prairie's Drama Club Prepares For A Big Show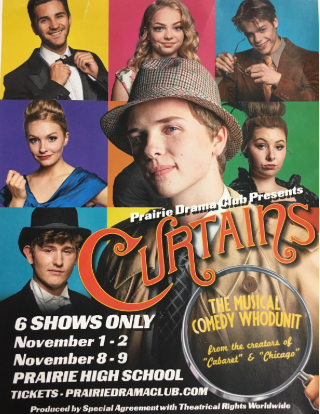 Prairie High School's Drama Club announced earlier this year that they would be showing "Curtains", a play written by Fred Ebb and John Kander, during the first week of November. Actors are currently making their final touches before showtime. 
The students in Prairie's Drama Club, with the assistance of their teacher, Claire Verity, have been working on the murder mystery show since July. They practiced consistently throughout the summer and continue to hold practices everyday after school. Auditions were held even before that time in late June. Most actors that auditioned had previously acted in other plays.
"I've been acting and doing shows for Prairie since I was in middle school", said Dominic Mendoza.
When Mendoza was younger, the Prairie Drama Club was looking for a little boy that could dance. That was when he began to get involved in the Prairie productions. In "Curtains", Mendoza plays the role of Bobby, a choreographer inside of the play. When asked what Mendoza's favorite part of acting is, he explained that he loves "performing on stage and going and being able to just have fun."
Another student who is involved in the program is Joseph Branchflower, the Vice President of the Prairie Drama Club. He will be playing Aaron Fox in "Curtains", a composer that writes all of the music in the play.  
"I have been involved in the Prairie Drama Club for a long time", said Branchflower. "I have met some of my greatest friends, and everybody is a great, big family."
Branchflower enjoys working with his co-stars, and just acting in general. When asked what his favorite part of acting is, he said that he enjoys "putting [himself] in positions where [he] would never be in [his] own life."
"I love finding the reality in all the new characters I play," explained Branchflower.
During the past couple of weeks, the play has experienced a few changes. Mendoza shared that the actors have been hard at work trying to perfect these adjustments when the opening night is quickly approaching.
"It has been a little hectic, but we are all working our hardest to make it the best show," Mendoza stated. 
The opening night is on November 1st, at 7:00pm, in the Prairie auditorium. Some of the other showtimes are on the following Saturday at 1:00pm and 7:00pm. The final show is on the 9th of November at 7:00pm.
Branchflower and Mendoza both shared that they believe the murder mystery is going to be a success. 
"It's been a long and hard journey for everyone involved, but I think the audience is going to enjoy it," said Branchflower.