Prairie's New Crimson Crew Unifies Students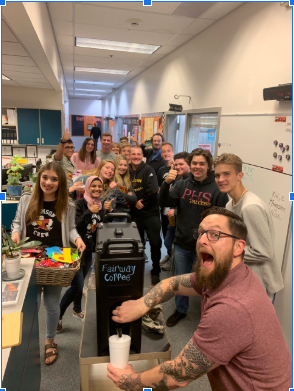 Prairie's new organization called Crimson Crew encourages students to become more involved in the school. The Crimson Crew shows kindness and respect to student athletes by attending sporting events that do not earn much support. 
The number of students involved in the organization is growing everyday, as the message behind it spreads throughout the school. The creators of Crimson Crew are staff members at Prairie. Jason Castro, an athletics director, Dawn Rowe, a psychology teacher, and Mandy Gardea, a security guard, are in charge of the program. They created this group to motivate students and faculty to attend more sporting events and to support all athletes at Prairie.
Jaylee Aho, a member of A.S.B. and Crimson Crew, shares her experience with Crimson Crew. 
"My favorite part is being really spirited and showing up to support others. I have already attended a couple supporting events each week", Aho explains.
Aho is one of the original members of Crimson Crew, and more people join everyday. The leaders assign specific people to go to certain sporting events each week. They create weekly schedules to insure that every event is attended. 
Luke Lund is another member of Crimson Crew. He explains how he got involved in the program. 
"I was in the main office and the leaders, Castro and Mandy, asked me to join and support the group", Lund says.
 Crimson Crew welcomes all students that are interested in joining. The leaders and members encourage people to become a part of the program.
"I definitely think Crimson Crew positively impacts the school, because it motivates athletes when more people attend and unifies our school as a whole", Jaylee Aho states.