The Next Year Of Leaders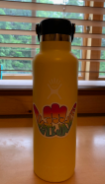 Hang on for a minute...we're trying to find some more stories you might like.
As the 2018-2019 school year is coming to a close, returning Falcons must choose their ASB executives for the upcoming year. The May 24th elections allows roles to be assigned to the incoming group of student body leaders.
This year's elections were organized in an online survey after each student's fifth period class. A video recording was shown before the voting began in order for Falcons to make the best choice for every ASB position. Elections were held for the President, Vice President, Secretary, Treasurer, Activities Manager, Publicity Manager, Sergeant In Arms, and Class President. The week prior to voting day was encompassed by each candidate attempting to gain the support of students by creating posters, making stickers, and even handing out baked goods.
Junior, Jaylee Aho, was one of two students that were in the running for Vice President. Aho is currently the Junior Class President and hopes to gain a "bigger responsibility" by filling the second highest position available. The Vice President is responsible for taking care of the President's responsibilities when they are not present, as well as watching over the other ASB officers. Aho believes she is the best person for the job because she "has lots of ideas" and "hopes to get more people involved" in school run activities.
Kory Terrell, a sophomore at Prairie, decided to run for Activities Manager in the election. He believes that he is better suited for the position than the other two candidates because he is "open-minded" and wants to bring "equality" to all students opinions in school. Terrell describes what he plans to do with the power encompassed by the position.
"If i win, I hope to bring more positive and more supportive activities next year at Prairie", he explains.
The next year of Falcons to be in charge of positively leading the school were chosen on May 24th. Prairie's student body leaders hope to bring effective change to campus in the upcoming year.