Hello Summer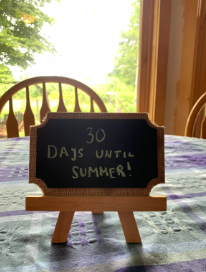 Hang on for a minute...we're trying to find some more stories you might like.
As the 2018-2019 school year will soon be coming to a close, Falcons are beginning to finalize their summer vacation plans. The final school bell on June 17th will mark the official start of the two month resting period.
Due to the teacher strike at the beginning of the year, classes have had to cover more information in a smaller time frame to make up for the three week delay of the first day of school. Classes will soon begin to prepare for their final exams in order to wrap up the year. Students are looking towards the light at the end of the tunnel, or their summer vacation, as they complete their last tests in less than a month.
Junior, Bridger Paradis, is excited about "not having to worry about school and homework" over the summer. He is planning to go on a fishing trip to Canada with his dad during the break. Paradis will be spending "12 hours a day on a boat" during his trip up north.  Bridger explains that he is also ready for "staying up late, swimming, hiking, and working" throughout the vacation. He hopes to spend lots of time with his "girlfriend and friends."
Caitlyn Jones has big plans for her summer vacation as well. Jones will be traveling to Maryland over the Fourth of July and is renting a lake house with her family. She is excited to "be in the sun,swim, and hang out with friends" over the break.
Senior, Micah Gaston, will be spending his last summer as a high schooler overseas. Gaston is going on a "graduation trip to Hawaii for eight days" with his family. He will also be traveling to Mexico in order to "go scuba diving."
The countdown to summer has begun at Prairie as the last day of school is approaching on June 17th. Falcons are beginning to think about what they hope to accomplish and participate in over the summer.