Giving Back To Teachers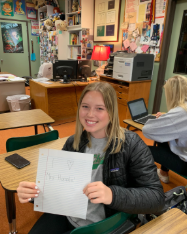 Hang on for a minute...we're trying to find some more stories you might like.
Teachers play an important role in the success of their students and the overall atmosphere of each school. On May 7th, Prairie teachers are celebrated for all that they do for the people around them.
Teacher's Appreciation Day is acknowledged throughout many parts of the United States. It is observed on the Tuesday of the first full week of May. Students are encouraged to give back to their teachers and say thank you for the dedication they have to their work. Some decide to write letters or bring gifts to the teachers that have made the biggest impact on them.
Junior, Macey Hall, is thankful for one particular teacher this year. Mrs. Homola, the AP Statistics and Pre Calculus teacher, teaches Hall's favorite class. Macey appreciates that Mrs. Homola "actually cares about her students and sometimes doesn't give homework." Hall made sure to express her thanks to Mrs. Homola on Teacher's Appreciation Day.
Jordan Frei, another student in Hall's Pre Calculus class, agrees with Macey in that Mrs. Homola is her favorite teacher. Frei appriciates that Homola "challenges [her] to learn new things all the time, while making class fun." She "answers all [her] questions and gives [her] extra credit." Frei is thankful for the impact Mrs. Homola has had on her this year.
Cross Country and Track athlete, Luke Lund, expresses that Mrs. Hall is his most beloved teacher because of her actions inside and outside of school. Lund was taken aback from the generosity of Hall after she "brought [him] treats for doing good at districts." Luke explains that she is "super sweet", and he is thankful for such a considerate teacher.
Prairie's teachers are responsible for contributing to the each student's high school experience. This year on May 7th, Falcons have the chance to give back to their educators and thank them for everything that they do.