The Fall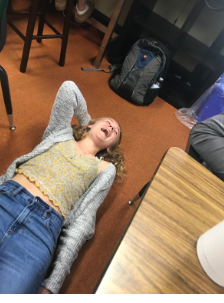 Hang on for a minute...we're trying to find some more stories you might like.
A mystery…how did it happen….what was the story….was there something else going on? On Friday the 19th a tragic "accident" insued. Mrs. Alway our very own beloved Journalism teacher took a tragic tumble during fifth period. Fifth period is Mrs.Alway smallest most well-behaved class…. A perfect class to construct an unfortunate "accident".
To fully understand what had happened, we must take it back to the scene of the crime: Room 705; witness: Joseph Branchflower. Branchflower states that everyone was working on an assignment, and no one but Havig and Alway actually saw the fall. All the students just heard a very loud crash towards the back of the classroom which included an expletive word. This furthers the conspiracy that this was an orchestrated incident. Branchflower furthers his speculations by stating, "There's a big possibility that it was planned, she needed a break and she had no other way." Anthony Santoyo a trusted APUSH student has some speculations about the fall. When Santoyo was asked if he believed there were ulterior motives he immediately stated, "Yes, most definitely. There was some kind of conspiracy around the situations." He also stated the situation was very unclear and many students were unsure about her absence. Leading to speculations on why things were so foggy if it was just an accidental fall. Continuing she was gone for well over a week, a perfect amount of time for a nice long vacation.
With all this speculation it is currently unclear if this was truly a fatal fall or just a perfectly timed tumble. Did Mrs.Alway go on her missed vacation? Did she need a break from teaching? Or did she truly take a tumble and acquire a concussion? The true cause may never be uncovered, but all we can ask now is……. How was Jamaica, Mrs.Alway?
In all honesty we love Mrs.Alway dearly and we hope she recovers from her concussion and everything goes well.