A Celebration for Ariel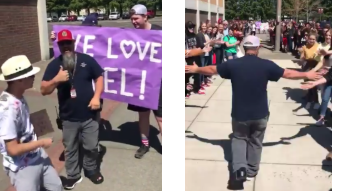 Hang on for a minute...we're trying to find some more stories you might like.
On Friday, April 26, Students of Prairie High School were released from lunch and class 10 minutes early to gather outside the front of the school to surprise beloved school custodian Ariel Alvarino. Hundreds of students gathered outside the doors and formed a long tunnel that lead almost all the way to the bus parking lot and high fived Alvarino as he walked through. At the end of the tunnel stood a few students holding signs that read, "We love you Ariel!" as well as "Thank you for keeping our school spotless".
The surprise event was a continuation of Prairie's, "Dude. Be Nice." Inspire week that took place in February. The idea came from Security Guard Mandy Gardea's inspire group who wanted to find a way to highlight and appreciate the custodian for all the hard work he does around the school. "Everyone loves and appreciates Ariel so much, the amount he contributes to the school, and the relationships he forms with students shows what a great person he is".Gardea says the atmosphere at the surprise was "Very exciting and emotional" and went very well. Gardea sent an email to teachers and went around to classrooms to invite students to celebrate Ariel, but also advised them to keep it as a surprise for the custodian and not tell him. Students were happy to participate because they all had positive experiences with Ariel and thought he deserved the recognition. The event turned out to be a huge success that surprised Ariel, and helped praise and appreciate him for all the help he provides around the school