The Testing Season Has Begun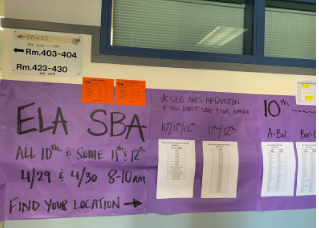 Hang on for a minute...we're trying to find some more stories you might like.
The English Language Acquisition Smarter Balanced Test is taking place at Prairie on April 29th and 30th. All 10th grade Falcons and some 11th and 12th graders will be participating in the exam at 8 to 10 in the morning.
The ELA Smarter Balanced Test is a graduation requirement for all high schoolers in Washington. The exam consists of an essay section, as well as many types of multiple choice questions on topics such as vocabulary and literary comprehension.
English teachers at Prairie strive to prepare their students for the test with the curriculum they teach in their classes. Students are given numerous practice tests prior to the real exam to make sure that they understand how to complete all aspects of the test correctly.
Addy Friesen, a sophomore taking the test this year, feels that she is ready to pass the exam. She gives a "shout-out to Mrs. Sloan" for making her feel confident in her abilities. Friesen believes that "the test definitely reflects what [they] do in class."
Although students may feel prepared to take the exam, many do not think that it is necessary for the Smarter Balanced Test to be a graduation requirement. Sophomore, Parker Shank, explains why she believes that students should not be required to pass the test despite the fact that "[her] teachers have prepared [her] for success as much as they can."
"Not everyone is a good test taker and having whether or not you graduate depend on it  puts a lot of unneeded pressure on kids", Shank states.
Students that have already completed the Smarter Balanced, or will take it next year get to sleep in on Monday and Tuesday while others are testing. Prairie will be on Testing schedules during these days and  students will have periods 1 through 3 Monday and 4 through 6 Tuesday. Classes will be an hour and twenty minutes long.
The season of testing has begun for the Falcons as the ELA Smarter Balanced test is taking place on the 29th and 30th of April. All sophomores and a few juniors and seniors will be attempting to pass the exam in which they have been preparing for all year.