Stress Free Day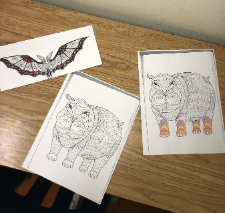 Hang on for a minute...we're trying to find some more stories you might like.
High schoolers tend to have a lot going on, whether it be sports, AP classes, thinking of the future, or all of the above. Many studies show that teens have some of the highest stress and depression levels of all age groups. Students at PHS are no stranger to the high amounts of stress they can face, especially near the end of the semester and school year.
Health science careers and family health teacher, Mrs. Levine, took the high amounts of stress high school students face into account while teaching the mental health unit with her classes over the past few weeks. She noticed students beginning to stress about the end of the year, and decided to dedicate a whole day in her class as a "stress free day" where she would have students learn about many different ways to cope with and handle stress in everyday life. "The stress free day is for students to learn some breathing exercises and multiple other relaxing techniques so they can understand their stress, acknowledge it, and handle it responsibly."
The stress free day had multiple activities including breathing exercises, a walk around the school, some visualization exercises, adult coloring, and the most important factor, no phones. "I've learned from this unit that the most stress comes from students physically having to turn their phones off, and it's really sad," Levine says students usually don't want to completely turn their phones off because of the fear they will miss out on something happening or someone trying to get a hold of them. "It's just really eye opening to me because I'm not a part of the generation that grew up like that." She had to remind students "It's only one hour of one day, it will be ok!"
Students received the day very well and took advantage of the newly learned techniques. One health science student, Mariah Fuller, says Levine's stress free day was, "very relaxing, and a good time to reset." She could tell, "the people surrounding [me] were also very grateful for the day."
Since the day was received so well, Levine plans on having a stress free day every semester from now on. She wants teenagers to understand that their mental health is important, especially in a time where a lot of stress can be falling at once.