Pageant Boys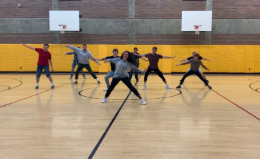 Hang on for a minute...we're trying to find some more stories you might like.
The highly anticipated annual event, Mr. Prairie, is coming up on May 21. The senior boys involved are working hard to prepare for the show.
Mr. Prairie is a pageant style performance put on by the seniors of the school. The profits made from the event go to a charity chosen by the winner of Mr. Prairie. Throughout the show, participants must demonstrate their most impressive talents, outfits, and spelling abilities to wow the audience. A question and answer portion is also included to spark comedic and entertaining responses from the boys.
This year, ASB member, Averie Martinez, is running Mr. Prairie, while Bella Millet is assisting her with the dance perfomance section of the event. Practices are held every Sunday, and Millet and Martinez help to keep the boys on schedule and organized so they will be prepared for the show when it comes around next month. Martinez explains that the participants are currently "practicing dances and talents" during their weekly meetings.
Prairie wrestler, Justace Walmer, is one of the eight seniors performing in Mr. Prairie. He is excited to raise money for those in need and to have fun while doing it. Walmer explains why Mr. Prairie is such an influential event for the school.
"It's important because of the tradition and the money it raises", Walmer states.
The senior believes he has a "very slim chance" of winning Mr. Prairie, but he is still "hopeful."
Mr. Prairie serves as a final celebration of high school for the senior boys involved. Those participating this year are currently preparing for the show that is coming up on May 21.