Blossom Ball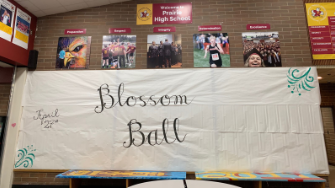 Hang on for a minute...we're trying to find some more stories you might like.
Students are encouraged to show off their dance moves at the Blossom Ball themed dance on April 27th at Prairie. The semi-formal event is a chance for Falcons to kick off the spring season in an exciting way.
Tickets are currently being sold in the ASB office for ten dollars without ASB and eight dollars with. Ticket sales will be closing on April 24th, and no students will be able to purchase them after this date. Prairie ASB students, Bella Millet and Averie Martinez, are organizing the dance and their goal is to sell at least 50 tickets.
Junior Class President, Maddie Hennerty, will be attending the event with her boyfriend. Hennerty explains the excitement ASB feels after successfully planning a dance.
"We work hard on events that we plan, and it's nice to see them finally executed", she says.
Addy Friesen is one of the students that will be going to the Ball. Friesen plans to dress in floral and to spend time with her friends, Jordan Frei and Parker Shank, at the event. She can't wait for the, "dancing and getting ready" that will encompass the semi-formal.
While many schools in the area are deep into prom season, Prairie's upperclassman will not have the highly anticipated prom experience until June 1st this year. The timing of the Blossom Ball calls into question the matter of if students will want to attend two formal dances in such a short period of time. While Friesen believes that this situation will lead to less people at the spring dance, Hennerty thinks that prom will have no effect on the amount of students that attend.
Prairie students have the option of coming together for a night of dancing at the Blossom Ball on April 27th. With only 2 dances left in the school year, students are attempting to make the most of the last few months.