The Future Of Journalism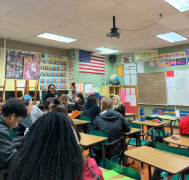 Hang on for a minute...we're trying to find some more stories you might like.
Prairie's journalism class is responsible for numerous activities that involve the Falcon Nation. Many members of journalism will be graduating at the end of this year, and the advisor, Patty Alway, is looking for new people to fill their roles.
Journalism takes part in documenting many attributes of Prairie. The Falcon Flyer, the school newspaper, is encompassed by students in this class. There are sports, news, and features writers that keep students up to date on what is going on at Prairie. Video production is also a large task that the class takes on. The students that are interested in this activity are separated into many groups that make certain types of videos. One group is responsible for creating P.R.I.D.E. Matrix videos, which involve Prairie's code of conduct. Others record sporting event related videos or even just videos that are supposed to be entertaining, like the Falcon Meets World crew. A few people serve to edit all of the videos that are produced.
Lainne Wilkins is a senior in Journalism and is in control of the Falcon Flyer. She originally joined the class because she wanted to major in Journalism in college and she has now been a part of it for two years. Wilkins explains why students should join the class.
"It's a good way to learn how to write about things happening around us or do shows," Wilkins says.
Grace Adams, a junior, is one of the few members of the class that plan to come back next year to write for the Falcon Flyer. Next year, Adams hopes to be an editor, or to be in charge of the Journalism website. She enjoys the, "freedom [she has] in this class" to write about what she wants to. Adams believes that there are, "many different jobs to fit different personalities" in Journalism. She thinks that there is a place for every student that wants to join.
If a Prairie student wishes to participate in the class next year, they must add the course into their course plan when forecasting. It is also important to have a conversation with Patty Alway in Room 705 to make sure that the class would be a good fit.
Journalism encompasses Prairie students that want to take part in informing their peers about the happenings at Prairie. Due to many members of the class graduating, students are encouraged to think about joining next year.