Prairie Band Members Preparing For Competition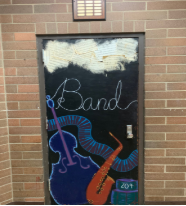 Hang on for a minute...we're trying to find some more stories you might like.
Prairie's Wind Ensemble Band is finishing their last minute preparations for the District Band Festival coming up on March 7. The Falcons will compete against other bands within the district at the competition located in their home school.
Middle school and high school bands will both be participating in the upcoming event and will be competing against corresponding bands of the same level of schooling. Prairie's band members will be helping organize the event. Students will be directing traffic, as well as doing a number of other jobs needed for the festival to run smoothly.
Prairie's Band has logged many hours this year learning the songs that they will perform at the event. The Falcon students have band practice every day during school hours to prepare for competitions like this one. The band is confident in their ability to perform the 3 pieces of music they will be showcasing. The songs that they chose are Prelude by Dmitri Shostakovich, Cajun Folk Songs by Frank Ticheli, and Africa: Ceremony, Song and Ritual by Robert W. Smith.
Junior, Vincent Le, is a trumpeter for the Falcons. Le has participated in band throughout all of his middle and high school years. He hopes that Prairie's Band will "show off how hard [they] worked" to prepare themselves for the District Band Festival at the competition.
Ramona Moroshan is another one of Prairie's musically talented students in band. She is a junior that is responsible for playing the 2nd clarinet. Moroshan hopes that her and her classmates will place at least 3rd in the festival. She expresses her excitement to finally get to show the audience what Prairie's Band has been working on this school year.
"I think we will sound great due to all the effort and practicing we've done", Moroshan explains.
Ramona has been a part of the program for 3 years now. She enjoys the loving atmosphere that encompasses the group of students.
"My favorite part of being in band is the community and sort of family it is. You spend so much time with everyone in band and you just become friends with everyone", she says.
As the District Band Festival is quickly approaching, Prairie's Wind Ensemble Band is ready to show the crowd what they can do.