Bring On The Performance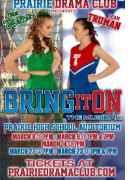 Hang on for a minute...we're trying to find some more stories you might like.
The opening night of Prairie Drama Club's rendition of Bring It On will occur on March 8 at 7 PM in the auditorium. Drama students are excited to show their peers what they have been rehearsing for during the last 8 months.
Bring It On is a well known film of the 2000's. The movie is set at Rancho Carne High School in San Diego. It addresses the issue of placing labels on others through a comedic lens. The film mainly focuses on Rancho Carne's cheerleading squad and the journey each cheerleader takes to discover who they truly are. There are 4 other movies in the Bring It On series.
The Drama Club will perform the movie many times in the next month. Following the opening night, the play will also be performed on March 9 at 1 and 7 PM, March 14 and 22 at 7 PM, and March 23 at 1 and 7 PM. The students have been rehearsing every day since July. They are ready for their hard work and dedication to pay off when the curtains are finally drawn in 2 weeks.
Senior, Cherish Hales, will be playing the main role of Eva. She has been a member of the Drama Club for all 4 of her years at Prairie and plans to continue performing after she graduates. Hales explains why she enjoys being a part of Prairie's Drama Club.
"My favorite part of being in drama is that I get to do what I love with the people I love," Hales states.
She is excited to participate in her last play at Prairie, but is nervous about the cheerleading aspect of the performance.
"Most of the people in the cast are not cheerleaders so we all had to learn how to cheer and stunt, so I would say that's what makes me the most nervous," Cherish says.
David Hatcher plays Eva's boyfriend, Steven, in the play. Hatcher joined the Drama Club last year and is happy with his decision to do so. He loves "being in a place where people accept you for being who you are."
Prairie Drama Club's first play of the year, Bring It On, is bringing excitement to campus this month as opening night is quickly approaching.