Stressful Week For Falcon Students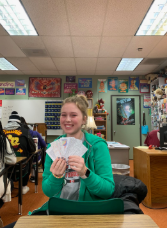 Hang on for a minute...we're trying to find some more stories you might like.
The end of the first semester took a large toll on the Falcon family from Feb. 3rd through the 8th, as students prepared to take their finals.
Due to the teacher strike at the beginning of the 2018-2019 school year, first semester was delayed by a few weeks, and teachers have had to attempt to cover the material in their classes in a shorter amount of time. This inconvenience has left students extremely stressed leading into finals last Thursday and Friday.
Senior, Hannah Kneeshaw, had exams in four classes last week. She participated in a class discussion for her AP Literature class, a unit final in AP Government, multiple choice and free response tests in AP Statistics, and a difficult exam in Physics. Kneeshaw says that she prepared herself for the week by, "reviewing past work and past things [she] used on previous tests." She attempted to study around an hour a night to insure that she was ready to end the semester on a good note. In the end, Kneeshaw believes that she performed well in the first semester of her last year at Prairie, and she, "felt as prepared as [she] could be" for the daunting final two days.
Jordan Frei also had four tests to prepare for last week. The junior had exams in Chemistry, US History, AP Language, and Pre Calculus. Frei, "stay[ed] on top of things" by studying at least 2 hours a day, as well as asking her teachers for guidance. Although Frei's exams were very strenuous, she feels as though she did very well on them.  She enjoyed her experience in the first semester of her junior year by spending time with her friends and keeping good grades.
As first semester has come to a stressful end, Prairie students look towards the next and final semester of the school year.