Prairie Bids farewell to Principal Drake, Welcomes Watts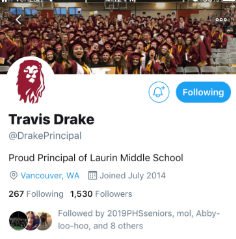 Hang on for a minute...we're trying to find some more stories you might like.
On January 29 all PHS staff, students, and their families received an email from principal Drake regarding him leaving his principle role at Prairie to take over the principal role at Laurin Middle School. A portion of the email read, "I have been asked to be the principal at Laurin Middle School for the remainder of the year.." "The quick turnaround has made it impossible for me to communicate the change to students, but I plan on being around so I can see them".
Although Drake is sad about the change, he is "excited to accept this opportunity," because being a middle school principal instead of a high school principal has less time commitment and overall stress load, so he will be able to spend more time with his family and also help "The challenges that come with growth and change" at Laurin.
Senior and close student with Mr. Drake, Davanna Aho, expresses how sad she is to see Drake go because "he has been [my] principal for 5 years now". Principal Drake pulled Aho and Malaika Quigley, another close student to him, aside in his office to tell them of his parting before the email was sent out to the rest of the students.
When asked if she thinks things will be different at Prairie, Aho says "I don't think much will change besides Drake not being physically here, I think Watts understands Drake and the culture at Prairie well enough to keep things good."
Aho also explained how many good memories she had with Drake and that she can't pick just one favorite. She can't wait to see his new chapter at Laurin, and see how he will inspire young kids to do good things and make the right decisions just like he did for her.
Drake will definitely be missed at Prairie, but there is very good reason for him leaving. He also will still be attending events like prom and graduation. Mrs. Watts is very excited to take on her new role and keep Prairie fun and functioning the way it has been for the last few years.