Cautioning Outbreak In Clark County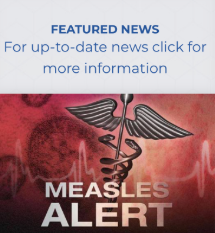 Hang on for a minute...we're trying to find some more stories you might like.
Recently Washington State was put in a state of emergency due to a Measles outbreak affecting the Clark County area. There are officially 47 confirmed cases and 7 suspected cases as of February 4 and the outbreak is only growing each day. 55 places in Clark County, Portland and Bend have been declared as exposure sites to the measles virus. This outbreak brings up many questions about ethics surrounding vaccinating and Not vaccinating.
Junior, Quentin Romer, has many strong beliefs on vaccinations and was eager to share them. He believes that vaccinations are good for the communities and many people's health. "If you have the option to vaccinate you should." He states that it is irresponsible as a parent to not vaccinate your children because you are putting them and others at risk to infectious diseases that could have been eradicated. Measles may not be the most deadly diseases, but it's one of the most easily spreadable diseases and Clark County is being affected greatly by the preventable disease.
While taking a look at people who are pro-vaccine, is also vital to see the other side. Junior, Haley Reed, supports the idea of not getting vaccinated because it provides the option to choose your own plan of health care.  She states that she does not approve of vaccinations because of the alleged autoimmune disorders they can cause, although recent health care studies have proved that to be false. She also believes that the vaccines put unhealthy and unnecessary chemicals into your body that should not be there. While talking about the recent breakout, Reed, says that everyone is overreacting to the breakout and only a small population of Clark County is being affected with a practically non-deadly disease.
The breakout has made many concerned for the health of themselves and their community. The Falcon Nation wishes everyone good health and wellness moving forward through this outbreak.