An Unforgettable Dance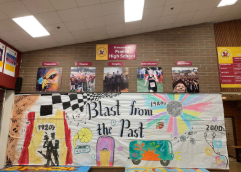 Hang on for a minute...we're trying to find some more stories you might like.
Prairie students danced the night away at TOLO on Jan. 26. The Blast from the Past themed dance was a night to remember for many that came.
Prior to the dance, Prairie's former DJ was let go, and TOLO served as a test run for a new variety of music to be introduced. In past years, students have voiced complaints related to the type of music played at dances. They were excited to hear a more current style of music played at TOLO. Junior, Meri Dunford expresses her content with the new DJ.
"I liked this DJ's music because there weren't as many remixes," Dunford explains.
Prairie's ASB faced difficulty during preparation for the dance. A junior varsity wrestling tournament took place on Saturday, and this posed a time constraint for ASB to decorate. The leadership class arrived at Prairie to decorate at 3:00 in the afternoon, while the tournament was not completed until around 6:30. ASB decided to create the decorations before the tournament had ended and quickly put them in the gym and hallway an hour before the dance was scheduled to begin.
Though very few students decided to attend the dance, those who did come had a great time. ASB believes that this lack of participation was due to the informal theme. Last year, Prairie's winter dance was semi-formal, which brought out a much larger crowd. 270 tickets were sold for TOLO this year, but it appeared that only about 100 students came to the dance. ASB President, Lainne Wilkins, is disappointed with the number that attended, but believes it was still "enough people to have fun." ASB hopes to draw more students to TOLO next year.
The Blast from the Past theme was a big hit for students who did choose to attend the dance. People came dressed in a variety of styles from different decades. Some students wore neon attire for the 80's decade, while others dressed as greasers from the 1950's. The creativity was endless. Meri Dunford explains her opinion on the new TOLO theme.
"I thought the theme was a really fun idea," Dunford says.
Students look forward to Prairie's next dance of the 2018-2019 school year after the unforgettable experience that TOLO brought them.