Inspire Week Training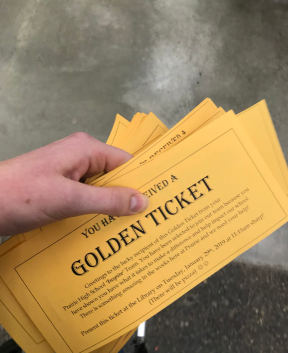 Hang on for a minute...we're trying to find some more stories you might like.
On Wednesday, January 24, and Monday January 28, 126 Prairie students received passes to see 5 different teachers to let them know they had been selected by their teachers as students who have good values, work ethic, and are overall inspirational. These selected students were told they would be attending a training session on Tuesday, January 29, to brainstorm with fellow students about ideas for inspire week coming up in February.
The "Golden Tickets" delivered to the selected Inspire team students reads "You have been selected to join our team because you have shown you have what it takes to make a difference and help impact our school ," and  "There is something amazing in the works here at Prairie and we need your help!".
Students will take their tickets to the library for the training at 11:15am, and will be given pizza to eat while they think of ideas for inspire week. Congratulations to all the selected Inspire team Falcons, we can't wait to see what you have planned for inspire week at our school!