Counselor Change Up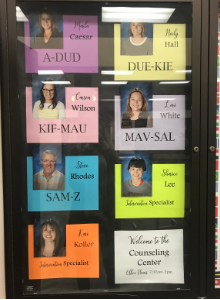 Hang on for a minute...we're trying to find some more stories you might like.
This year the counseling staff at Prairie has changed drastically. The entire counseling center, aside from Mr. Rhodes, has become completely new to the falcon nation. Counselors such as Mrs. Caesar, Mrs. Hall, Mrs. Wilson, and  Mrs. White have been added to the Prairie counseling staff.
Falcons such as Senior, Bailey Robertson, have been affected by this change. Robertson  was assigned to Mr. Rodes for her first three years here at Prairie, but with the staff changes her counselor also got changed.  Robertson now has Mrs. White as her counselor and was not disappointed in the change. While she was happy with Mr. Rhodes, she was quickly able to adapt to her new counselor. She says, "Mrs. White responds quickly to any problems i've had and is very kind with every encounter that i've had with her." She was says it's refreshing to get a new counseling staff at Prairie and gives students a chance to experience new help with their schedules and graduation requirements.
The change in staff helps create a new atmosphere at Prairie and create more diversity in the staff. Junior, Maya Davis, says she  had her new counselor in middle school. Mrs.Caesar worked at Laurin Middle school and Davis was very hands on with her while working in Peer Mediation at the school. This helped create a bond between Davis and Mrs. Caesar, and Maya is very happy to have her apart of the Prairie staff.
Prairie is happy to welcome all the new staff and hope they enjoy Prairidise as much as the Falcon nation does.