A Week Of Positivity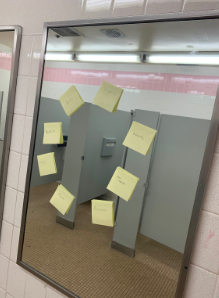 Hang on for a minute...we're trying to find some more stories you might like.
Prairie students participated in GLSEN's(Gay, Lesbian, and Straight Education Network) No Name-Calling Week on Jan. 21 through 25. The program served as an attempt to spread love and positivity around campus.
Name-calling and bullying are seen as major issues surrounding high school students today. Students may not realize the impact of using a label against one of their peers, and this can have major consequences.
Prairie students were shown a video that was created by the GLSEN organization and asked to contemplate the effects of their actions and thoughts. No Name-Calling Week was originally created by Simon and Schuyler Children's Publishing, as well as inspired by the well known novel, The Misfits, by James Howe. Each student's goal throughout the week was to be kind to those around them, no matter their dress, personality, or appearance.
Caitlyn Jones, a junior at Prairie, reflects on her experiences with bullying.
"I was bullied in 5th grade," Jones says. "It got so severe I had to switch schools."
Jones believes that No Name-Calling Week may help to "get that thought" of bullying and judging "out of [student's] mind[s]."
Jordan Frei, another Prairie junior, is also hopeful about the impact of the week.
"If students do follow along with the No Name-Calling Week, I think it will have a very positive impact on everyone," Frei explains.
Although it may not have solved every issue related to bullying at Prairie, No Name-Calling Week was a great step toward creating an all inclusive school.