A Blast From TOLO's Past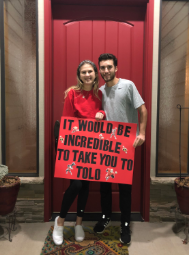 Hang on for a minute...we're trying to find some more stories you might like.
Prairie's second dance of the 2018-2019 school year is coming up on Jan. 26 from 7:30-10:30. The Blast from the Past themed TOLO is creating excitement around the school as females follow tradition for the boys ask girls dance, and prepare to ask their dates to the annual event.
Ethan Mcclintock, a senior varsity baseball player, and Grace Adams, a junior soccer player, are one of the many couples planning to attend the dance. Mcclintock and Adams have been dating for 6 months and enjoy spending time together at dances.
Adams decided to ask her boyfriend to TOLO in a very sentimental way this year. She designed a poster that relates to the couple's first date, where they went to see Incredibles 2 at the movie theater. Mcclintock was quick to accept her proposal, and they plan to come to the dance.dressed as greasers from the 1950's era.
The couple is very excited that TOLO will not be the usual GLOLO theme this year.
Adams states, "I'm really happy that it's not GLOLO. It's getting less fun to dress up for the same thing every year."
Noah Larsen and Anna Neal will also take part in the dance this month. Neal asked Larsen, a varsity wrestler, to the dance with a poster related to the sport he plays.
"I bought him dutch, and made a sign that said, "I'm done stalling, let me pin you as my date to TOLO'", Neal explains.
The two juniors have been dating for a month and look forward to attending their first dance together. They are "hoping for better music" compared to the Homecoming dance earlier this school year.
As TOLO is quickly approaching, many more of Prairie's students will be making their own unique proposals to ask someone to the dance.