A Memorable Winter Break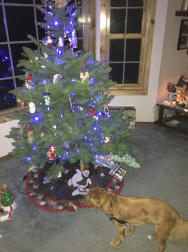 Hang on for a minute...we're trying to find some more stories you might like.
Last week Prairie's annual holiday break came to an end. Over Dec. 24 through Jan.1, Prairie students experienced a much needed break from the pressures of school.
While the teacher strike at the beginning of the 2018-2019 school year caused Prairie's winter break to be cut short, students still had the chance to spend quality time with their families over the holidays. Junior, Anna Neal, explains her family's Christmas tradition.
"I celebrated Christmas with my family," Neal says. "We always go to my aunt's house for dinner. Our tradition is to always skype my grandma and uncle and open gifts from them on Christmas."
The senior class President, DaVanna Aho, also enjoys her family's holiday traditions.
Aho says, "We open all of our presents on Christmas Eve, and we do it wearing our matching pajamas, and after all of the presents are opened and everything is cleaned up, we play a big game of monopoly."
Many students enjoyed New Year's with the company of their friends this year. Junior, Bridger Paradis, celebrated the beginning of 2019 with his fellow classmates.
Paradis states, "I went to my friend Grace's house, and all of my friends watched scary movies, played games, and drank lots of apple cider."
Prairie's varsity girls and boys basketball teams traveled and competed over the break. The boys team went to Arizona, while the girls team played in California. Haley Reed, a varsity girls basketball player, explains how the girls felt about their trip.
Reed says, "We played pretty good and went 2-1. When we had free time on the last day, we went to the beach, which was fun."
Although Prairie students are sad that the memorable holiday break has ended, they are now shifting their focus on the end of semester approaching within the next few weeks.